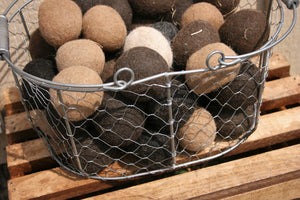 Dryer balls are a very effective, environmentally friendly, and economical way to dry your clothes. No need to continually purchase dryer sheets every month - dryer balls last up to 2 years (and many times longer than that!) Simply leave them in your dryer and they are always ready for the next load (we suggest leaving the door open slightly to help dry out any additional moisture, especially if you are in a wet climate).
Dryer balls help separate clothes as they tumble, instead of keeping them stuck together. This allows more air circulation and faster drying time. By adding 2-4 to your dryer, you can usually reduce your dry time around 10 minutes per load. If you do 6 loads with 4-5 balls thrown in, that's an hour of energy saved - saving you time and money. They also help reduce static just as normal dryer sheets and fabric softeners do too.
Dryer balls are nontoxic and renewable
-Animal fiber is extremely renewable. Our animals are shorn once a year; if they weren't their coats would become overgrown and matted, making the animals hot and more susceptible to skin issues and heat stroke. Nothing goes to waste with the fiber! Our balls are made from the coarser leg and neck hair (while the better quality goes into yarn).
-Perfect solution for people with sensitive skin and allergies because they are free of harsh chemicals and fragrances. Many people can not use traditional dryer sheets and fabric softeners because of the many additional chemicals and scents that are added. The only thing that goes into our dryer balls is fiber! 
They are all natural and do not contain any dyes. Because of this, we can not guarantee the colors of each individual ball. If you have a preference, please contact us!
********
Want your clothes to still have a scent? Add a few drops of essential oil on your dryer balls and you will still have fresh smelling clothes. Our favorites are lavender or lemon!
Sold as a set of 4 balls
Customer Reviews
12/01/2023
Anonymous

United States
I recommend this product
Dryer balls
Very useful and last a long time. Well worth the money.
10/03/2023
Anonymous

United States
I recommend this product
Dryer Balls
Work great. Seem to be quieter in the dryer than other dryer balls.
10/24/2020
Sheri G.

United States
Alpaca dryer balls
Great experience! I add just a few drops of essential oils to the dryer balls. Love using these instead of dryer sheets.