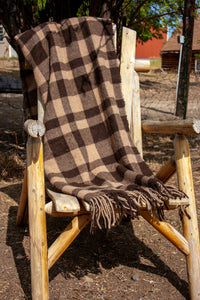 Surround yourself with the warmth and softness of 100% US grown alpaca fiber. From the moment we received these, we knew that we would need to get 2...one for each of us! Each blanket is crafted using the rich dark browns and fawns of natural alpaca. 
Incredibly soft and warm, these blankets are the perfect addition to any home. Use them to snuggle up to a fireplace and enjoy the simple luxury of alpaca.
These blankets are extremely special, because not only are they produced using 100% US Grown alpaca fiber from local "Mom-n-Pop" farms like ours, but they are created by the industry leader in blankets...Pendleton Woolen Mills. Pendleton has been family owned for over 140 years in Washington and Oregon. 
We only have a limited supply of these 100% alpaca blankets as they are now being produced with 80% alpaca and 20% wool. Once we are out, we won't be able to get these anymore! 
Size: Approx 53 x 70 inches
Materials: Made in the USA by Pendleton with 100% US bred alpaca fiber.
Care: Dry clean or hand-washing recommended. Manufacture says they can be machine washed on delicate/air dry, but please do so at your own risk.