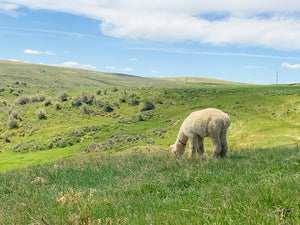 Have you ever wanted to have an up close and personal experience with an alpaca? Come for a visit and you will experience over 50 of them! We are available for tours most days from June thru October. 
You must schedule a tour at least a day in advance. We do not have the ability at this time to accommodate drop-ins.
A few things to know before the tour:
1) We are a working ranch, so there is not much pavement and there's plenty of dirt. The terrain is fairly flat (not much hills), but can have uneven spots. 
2) We recommend not wearing open toed shoes. There is not much walking, but do reference point #1. We also encourage dressing for the weather. It can often be very warm with little shade, so hats and water are good to bring. 
3) Please do not bring any animals with you. We have our own pets and do not want to risk injury to them or the alpacas. 
4) From Craig it's approximately a 20 minute drive, and about 1 hour from Steamboat. Please plan accordingly so you can arrive on time for your scheduled tour. 
5) Plan on staying anywhere from 30 minutes to 1+ hour. We do not have restrooms available, so please plan accordingly. 
6) Photography of the animals is highly encouraged, but please use the photos for personal use only (i.e you may not use photos taken on the property to sell for any type of profit). 
FAQ's
1). Do you have products available to purchase after my tour?
YES! We have a small store on site that has all our products available for purchase. We take cash, card, and check. You can look through our entire inventory online before your visit.
2) What does the tour cost?
The tour is a free service that we provide. We do always appreciate a purchase from our store so you can remember your trip or donations but these are not a requirement. 
3) What happens if I have to cancel my tour?
We understand that life happens. Please let us know as quickly as possible if you need to cancel or reschedule your tour. The quickest way to get ahold of us is via email at info@livingwaterfibersandalpacas.com.