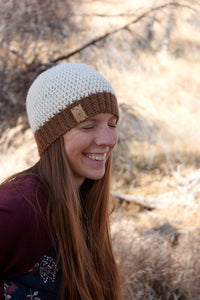 Abigail is one of the first alpacas that we were able to add to our foundation herd. She is gentle and sweet, and simple wonderful. 
This no frills crochet hat is a perfect everyday accessory to grab and go. Perfect for those chaotic days where you can't think about what matches, and just need something that goes with everything. Not only will this hat match everything and still look great, its plush rib will keep you toasty warm when it is anything but outside. Contrasting the light brown ribbing, the cream body of the hat adds a unique spin on a simple design. 
Fits most head sizes 20" - 24". Please contact us to request a larger or smaller size.
Additionally choose to top your hat off with a real fur pom pom. We make each fur pom pom by hand*. These truly elevate your hat and give it a unique and fun touch.
*Because of the nature of genuine fur, we can not guarantee the exact color you receive will match the photo. We can guarantee that we will make your hat look as perfect as possible and match the color hat to fur to the best of our ability.*